TRIVIA AND FUN SECTION

Right: Ramones VIP pass means:
1) I am a longtime friend of the band.
2) I slept with a roadie to get this.
3) I provided a roadie with drugs.
4) I collect horror movie posters.
5) I went to Kinko's and made this myself.

Below: Dee Dee's birthday cake,
Sept 19, 1988 in Pittsburgh PA
Actually his birthday is the 18th
but there was no show that day.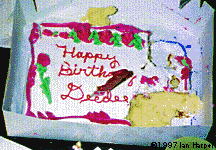 CONTINUE...