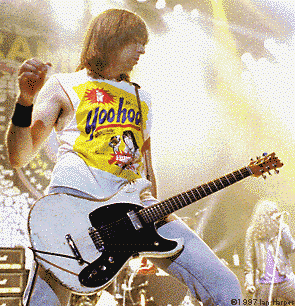 Warfield Theater, San Francisco, 8/12/90:
One of the clearest shots I got of Johnny wearing the now famous Yoo-Hoo shirt. This is of historical significance because it marked the first time in nearly 10 years in which Johnny did not wear a solid black shirt. (After this show he returned to wearing assorted printed shirts as well as the usual black ones.)

Okay... LIMITED EDITION RE-ISSUE SHIRTS AVAILABLE NOW!